WordPress 4.7.4 Maintenance Release, 47 issues fixed
After 4.7.3 security release, now 4.7.4 maintenance release has been launched by WordPress on April 20, 2017.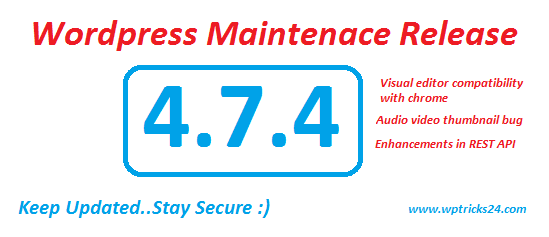 This release includes 47 bug fixes with few more enhancements. Below mentioned are the highlights for this release:
Visual editor compatibility bug for upcoming version of chrome browser. Check more details here: https://core.trac.wordpress.org/ticket/40305
Broken thumbnail bug for audio and video. It was the result of corrupted blob metadata. check more detail here: https://core.trac.wordpress.org/ticket/40075
Enhancements and further improvements in REST API related to data handling. Like issues with date and DST. Check more detail here: https://core.trac.wordpress.org/ticket/40136
Latest version 4.7.4 now restores the ability to shift-click a range of check-boxes.
Above mentioned are the few important enhancements and fixes in this current WordPress 4.7.4 version. To get complete list of modifications and enhancements please check its release notes and complete list of changes here:
It is advised to update your current WordPress as soon as possible to get the benefit automatic fixes and enhancements.
How to Update
Some websites are having automatic update enabled, they have been updated automatically. But those who have disabled this automatic update feature are recommended to update it on priority basis as mentioned below:
Click on "Update Now" option from dashboard which update WordPress to your latest version automatically.
Go to Admin Dashboard => Updates and click on "Update Now" button to update it automatically.
Go for manual update.
Updated WordPress, Secure WordPress 🙂