WordPress 4.8 release with new features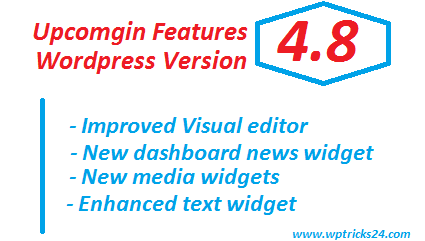 Good news for WordPress developers that WordPress is releasing new versions very frequently. It means that WordPress is improving its features on regular basis.
In this sequence WordPress is planning to release it's next version that is 4.8 with few more latest features. These features will definitely enhance the usability of WordPress in many ways.
Sharing few upcoming features of WordPress:
Improved Visual editor: New WordPress will have an improved visual editor with a new TinyMCE. This will help us to navigate more quickly to our inline elements like links etc.
New dashboard news widget: Upcoming WordPress will have an improved news widget showing at the dashboard. This widget will have information of near by and upcoming events which includes Word-camps and meetups on WordPress.
New media widgets : WordPress is introducing new default media widgets which includes images, audio video etc.

Enhanced Text Widget: From now on wards the text widget will have the feature of visual editor as well. It will also help us to use it in more ways.
Above are the few features which we have discussed will be available after official launch of this version that is WordPress 4.8 Developers are planning to release this version on Thursday, June 8, 2017.
This upcoming version is under testing now. We can also check its beta version here:
WordPress 4.8 Beta 1
WordPress 4.8 Beta 2
It is the time for plugin developers to test their plugins working properly with this version or not. If you face any issue in it then please report a bug here : https://wordpress.org/support/forum/alphabeta
In this way we are preparing our plugins before launching new WordPress version and also contributing to make WordPress upcoming version better.